Museo Fuente Álamo
Museum Fuente Álamo
The Museo Fuente Álamo is a strikingly modern building located on the outskirts of the town and houses an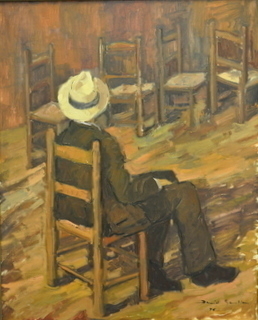 unexpectedly good collection of contemporary art, as well as an interesting ethnographical display giving information about the traditional lifestyle which would have been the norm for the residents of the area before the onset of modern technology and communications.
The total floor area is almost 2,000 square metres, with exhibitions on three floors, each corresponding to a different theme: ethnography, paintings and on the ground floor , workshops, used for a variety of courses and classes.
Visitors arriving at the museum are greeted by a collection of contemporary sculptures, both in and outside of the museum, including works by José Planes, José Molera, Pedro Pardo, Múher and Pepe Yagües.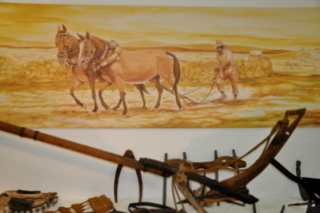 The ground floor of the building, is devoted to ethnography. The exhibits and displays relate to traditional occupations and crafts such as weaving, carpentry, smithies, ceramics, esparto grass and agriculture, all of them showing how residents of the area adapted to the resources, climate and landscape which surrounded them.
Today we take for granted the provision of running water, fridges, electricity, gas cookers and cars, but up until just a few years ago, this technology was not available in rural Spain, and residents relied on the skills and knowledge handed down to them from their families. This exhibition uses displays of implements and images to give a clear idea of what was involved in the processes of daily survival.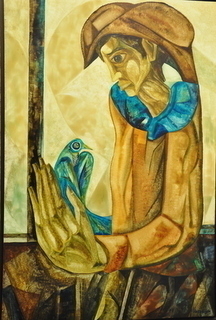 On the top floor there is a permanent exhibition of contemporary paintings which has been built up since 1973, fruits of the National painting competition known as the Premio Nacional de Pintura Villa de Fuente Álamo, one of the longest-running of its type in the whole of Spain.
This collection is one of the most numerous and prestigious public collections in the Region of Murcia. There are more than fifty works by renowned artists, including Aurelio, Ángel Hernansáez, Sánchez Baillo, Manuel Delgado, José María Párraga and Belzunce, as well as more recent contributions by Ángel Haro, Gil Antonio Munuera and Concha Martínez Barreto.
The Certamen Nacional de Pintura Villa de Fuente Álamo was first held in August 1973, when it was organised by the Círculo Medina cultural association, a group of young artists who wanted to do something different as part of the celebrations relating to the San Agustín Fiestas.
Their proposal for a painting competition was backed by the Mayoress of the time, Francisca Mayordomo, and the municipal council she headed. Strange though it might seem in the last years of Franco's régime, the venue chosen for the first exhibitions was the local headquarters of the Guardia Civil. When the building was demolished in 1979 the competition survived, using various different premises, until 1986, when it found a new home in the Casa de la Cultura. The first edition of the competition offered a first prize of 20,000 pesetas, by no means a figure to be sneezed at in 1973, and other prizes were 10,000, 8,000 and 2,500 pesetas.
When the Museo Fuente Álamo opened, the collection of paintings was moved out of the municipal offices into this new and more spacious home.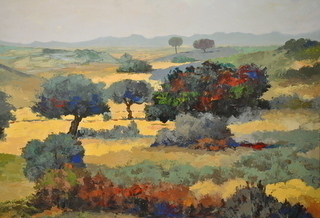 It´s a very interesting exhibition, as it tracks the development of contemporary painting in the region year on year, and some of the artists who won the competition early on in their careers, went on to become internationally recognised contemporary artists, and many are still working and exhibiting today
On the mezzanine floor is a multi-purpose area of more than 180 square metres which is used for both exhibitions and workshops related to traditional arts and crafts and fine art. This encompasses a wide variety of activities, from esparto grass to painting, papier maché to ceramics, and engraving to digital photography.
It´s not a huge Museum, but is certainly worth visiting if you have an interest in contemporary art or live locally.
There are not a lot of tourist sites within Fuente Álamo, but it´s also worth visiting the open air water museum which is just a couple of minutes drive away from this location.
Visitors to this area who enjoy discovering and seeking out locations of interest may enjoy driving from Fuente Álamo to nearby La Pinilla.
Outside the little church is a sculpture by Antonio Campillo, one of Murcia´s most important sculptors, and there is also a Vía Crucis walk which gives superb views across the area and also one of the oldest olive trees in the region, believed to be over 500 years old.
Click for La Pinilla, Fuente Álamo.
Visiting the Fuente Álamo Museum.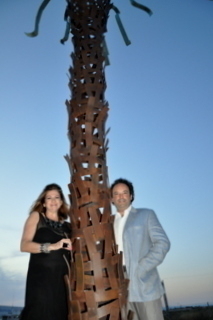 Opening hours:
Tuesday to Saturday 10am to 2pm
Evenings from 5pm to 9pm.
Closed Sundays and Festival days.
Where is the Museo Fuente Álamo?
The Museum is located on the main road heading out to Corvera airport, the Avenida de Los Reyes de España. This is about a 2 minute drive from the local Mercadona supermarket and the open air water museum.
Museo Fuente Álamo
Avenida de los Reyes de España
Fuente Alamo
Murcia
España
30320
Click for map, Avenida de los Reyes de España, Fuente Alamo
Telephone: +34 968103251
Fax: +34 968103223
article_detail
Thank you for supporting Murcia Today
article_detail
.
Contact Murcia Today: Editorial 966 260 896 / Office 968 018 268